MOBILE NOTARY PROFESSIONALS
We have traveling notaries, so all you have to do is schedule a date, time, and location, and we'll be there. We offer several levels of service, and can take your documents to FedEx or UPS for you to expedite shipping.
Our mobile notaries can print your documents and travel to your individual or business location to execute your signing.
We simplify the notary process so that you can keep your focus on the business at hand.
We can also take your notarized documents to UPS or FedEx, saving you more time and providing the utmost convenience.
Click To Call A Notary Pro Today!
CallANotary.Pro Traveling Notaries: Convenience + Accuracy
Our certified notaries pay attention to all of the details to ensure that your transaction meets proper requirements. Each CallANotary.Pro traveling notary is covered by a $1 million errors and omissions insurance policy. We value your transactions and your confidence in our service. We also take care of the follow-up you need, taking responsibility for overnight shipping to the next or final destination.
Mobile notary public services include:
Passport application assistance

Certification of affidavits

Notarization of wills

Mortgage documents

Powers of attorney
We notarize all types of documents. Our goal is to make the process as convenient as possible for you.
Benefits of Traveling Notary Services
Traveling notaries give you the flexibility of on-demand notary services. We'll be there when you need us:
Several levels of service, with no minimum order

Available any time — during or outside of business hours, including weekends

Easy to schedule online
Who we serve
CallANotary.Pro works with individuals and businesses of all sizes. We have extensive experience in residential and commercial real estate, finance, and legal. Examples of clients include:
Title companies — Having a 'notary closer' on hand makes end-of-the-month in-house closings easy, or getting documents signed and notarized at a remote location

Attorneys — Offering mobile notary service speeds up the process of finalizing document processing
As a  Texas Notary Public, I have the authority to
Take acknowledgments

Administer oaths or affirmations

Protests instruments

Take depositions

Certify copies of non-recordable documents
As a Notary Public, I may not:
Prepare, draft, select, or give advice concerning legal documents

Perform acts which constitute the practice of law

Use the phrase "notario" or "notario publico" to advertise notary services

Overcharge for notary services

Notarize a document without the signer being in the notary's presence at the time of the notarization

Issue identification cards

Certify copies of documents recordable in the public records (Driver License, Birth Certificates..)

Notarize a document without having current ID from the signer, unless they are personally known to me.
Typical Documents for Notarization include:
Acknowledgments

Adoption Documents

Affidavits

Affidavit of Contribution

Birth and Death Certificates

Business Documents
Contracts

Deeds

Health Directives

Jurats

Medical Documents

Parents Consent to Travel
Powers of Attorney

Time Share Documents

Towing Company VSF Forms

Traffic School Tests

Trust Signings

Vehicle Title Transfers

Wills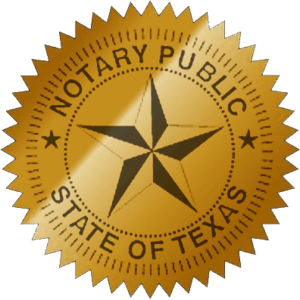 Click To Call A Notary Pro Today!
Texas Gov't Code Ann. §406.024 sets out the maximum fees a Notary Public may charge for notary public services.
Texas Notary Fees / Maximum Notary Fees:
Protesting a bill or note for non-acceptance or non-payment, register and seal
$4
Each notice of protest
$1
Protesting in all other cases
$4
Certificate and seal to a protest
$4
Taking the acknowledgment or proof of any deed or other instrument in writing, for registration, including certificate and seal
$6 for first signature
$1 for each additional signature.
Administering an oath or affirmation
with certificate and seal
$6
All certificates under seal not
otherwise provided for
$6
Copies of all records and papers in the Notary Public's office, for each page
$0.50
Taking the depositions of witnesses, for each 100 words
$0.50
Swearing a witness to a deposition, certificate, seal, and other business connected with taking the deposition
$6
All notarial acts not provided for
$6
| | |
| --- | --- |
| Within Austin up to 20 miles |  $30 |
|  21+ Miles from our location |  $35 + $1 per additional mile |
|  After Hours Fee (5pm-8:59am) |  $30 |
Travel Fee + Notary Fee + After Hours Fee (If applicable) = Total Cost
Cash
Visa, American Express, Discover, MasterCard (paypal)
Insured, Bonded & Clean Background Check
Click To Call A Notary Pro Today!
(512) 400-8147
After 9pm you may be put through to voicemail. Please leave a message, We are quick to respond.
Send A Email
If you prefer to schedule your appointment via email, please include your preferred date & time. We are quick to respond.